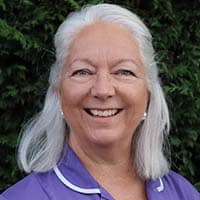 Angela Stevenson, Practice Educator
Angela has been practicing Osteopathy for nearly 40 years, having graduated from the UCO (formerly BSO) in 1983. She has had practices in various locations in the UK over the years, as well as in Saudi Arabia and Dubai.
Now, Angela has a small practice in Melksham, Wiltshire where she has a special interest in complex, chronic conditions.
9 years ago Angela trained in Frequency Specific Microcurrent and uses this unique adjunct with many patients.
In 2020 Angela joined the UCO clinic team and enjoys guiding and encouraging students. She is looking forward to developing a mentoring role in the future.
In her spare time Angela enjoys archery and Ceroc dancing.