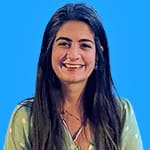 Available Monday and Tuesdays
Rengin qualified from the University College of Osteopathy (UCO) in June 2022. Before studying osteopathy Rengin worked as a nanny and Early Year's practitioner and leader, where she really enjoyed caring for others. Her interest in human biology and her drive to help people led her to pursue a career in osteopathy.
Throughout her training Rengin worked with patients of different ages, backgrounds, and people suffering with chronic pain conditions, such as HIV.
Rengin uses a variety of techniques in her treatment, including but not limited to soft tissue release, joint articulation, and manipulation, as well as visceral and cranial methods. As Rengin loves expanding her knowledge, she is also working in the area of women's health.
Additionally, Rengin's achievements are driven by a strong sense of community and her commitment in making a positive change to people's lives. She is motivated in guiding patients towards a healthier lifestyle through manual therapy skills and advice.
In her spare time, she enjoys dancing, hiking, playing violin, reading, meeting with new people, and traveling.
Rengin speaks English, Kurdish and Turkish fluently.