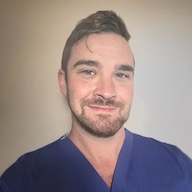 Daniel Sherwood, UCO Associate
Available Tuesdays and Wednesdays.
Daniel has always had a passion for working to help care for others. From an early age he would assist his parents with the care of his younger sister who has cerebral palsy, and this sparked his interest in care and rehabilitation. Before being an osteopath, he completed a course in holistic massage and worked at Kings college hospital in paediatrics. Since beginning his new career he has enjoyed working with those of all ages.
Whilst Daniel has been working in the UCO clinic, he has experienced working with a broad array of musculoskeletal conditions, conducting a thorough diagnosis followed by tailored treatment. Daniel likes to treat patients using a patient centred approach, making each treatment to be specific to each patient and presentation. He will use a variety of techniques such as joint manipulation, soft tissue, stretching and strengthening exercises, rehab advice and many others, with the aim of reducing pain levels, increasing biomechanical function, educating patients in understanding their presentation and working with the patient to improve quality of life.
Daniel hopes to continue to assist those who need support and aims to do so in a calm and relaxing environment.
Daniel qualified with a Master's degree in Osteopathy in 2022. He is registered with the General Osteopathic Council and is a member of the Institute of Osteopathy.